The Hon. Damion Crawford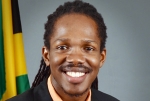 The Honourable Damion Crawford is Jamaica's newly appointed Minister of State in the Ministry of Tourism and Entertainment and was sworn in on January 6, 2012.
Minister Crawford entered representational politics in 2008, the same year he was elected President of the People's National Party Youth Organization (PNPYO), an office he held up to April 2011. Mr. Crawford commenced a career in politics in order to make his contribution to changing the nation at the macro level, and represents the constituency of East Rural St. Andrew. 
Minister Crawford is no stranger to the field of tourism having pursued a teaching career in this discipline prior to his political appointment. Mr. Crawford has been a lecturer of Tourism Studies and Marketing Management at the university level, lecturing at The University of the West Indies (UWI), the Mona School of Business, the University College of the Caribbean and the Excelsior Community College. His career in teaching started some eleven years prior at the high school level teaching Mathematics. In addition Mr. Crawford has worked on tourism related projects in the capacity of a project consultant to the Jamaica Hotel and Tourist Association (JHTA) and the Jamaica Conservation and Development Trust.
Minister Crawford was awarded both the Master of Science and the Bachelor of Science degrees in Tourism Management by The University of the West Indies in 2005 and 2001 respectively. His accomplishments include, among others, research papers and conference presentations on "Consumer side of Crisis", University of Delaware/Utech conference on Tourism Management in May 2009; "Demographic Factors That Influence Tourist Destination Choice", Ideaz Journal (Co-author) in January 2009; "Impact of Terror on Tourist Demand: Presented at the Hotel and Catering International Management Association (HCIMA) conference on Security and Tourism" in June 2006.
Mr. Crawford was recognized for his leadership qualities from his early years as a student at the University of the West Indies having been elected Freshman of the Year 1999-2000 for Taylor Hall, Taylorite of the Year and Hall Chairperson-Taylor Hall 2003-2004. In addition he served as Guild President of UWI for the period 2000-2001 while at the Centre of Hotel and Tourism Management and again from 2004-2005 at the Mona Campus.